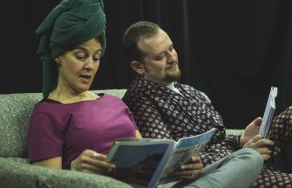 Montreal's Fringe Festival starts next week, and it's well worth taking in a few shows to see some of the stellar talent the city has to offer. Everything from magic to puppetry to burlesque to music is on the bill, including, of course, some off-the-wall theatre like Folie's Follies. A production of d² Productions, a Montreal-based theatre company run by Vaudreuil-Dorion based Dale Hayes and Dan Liboiron, Folie's Follies features three short plays by Micheal Folie that explore the ins and outs of relationships.
A 35-year veteran of the theatre industry, Hayes started d² Productions only a year and a half ago when she was looking for a change after nineteen years of teaching acting.
"I decided I was going to create work for myself and work for actors in Montreal, and really give back," Hayes said. "We're not in this to make money, we're in it to produce challenging repertoire work for people in Montreal and provide a home for artists, and to just have fun."
The company just finished up a sold-out run of The Breakfast Club at the Mainline Theatre and will be working on their fall show, Misery (by Stephen King), once Fringe is over. Hayes is excited to be back at Fringe, which she describes as a great place for Montreal artists to get exposure and get creative.
"I love the energy, I love what they do for the community, I love the fact that they have this great festival that allows companies who would not be able to afford a venue showcase their work," she explained. "It's a wonderful opportunity for local artists. It's so diverse too and most shows are about an hour- you're not stuck in a hot theatre for three hours!"
Folies Follies, which runs at different times from June 9 to June 19, is a trio of plays looking at the funnier aspects of relationships. Darn It, directed by Max Mehran, follows a couple who decide to date- but first need to visit the lawyers for a pre-date agreement; Dust, directed by Susan Corbett, features an older couple discussing their very different operating systems; and Meeting of the Minds, directed by Hayes, looks at a relationship between a couple with two unusual narrators- the couples' genitalia.
"It's very cute. It sounds like it could be very lewd and offensive but it's really not. It's all about comedy," Hayes said.
The cast is as diverse in age as it is in cultural background, keeping with the mission of d² Productions to provide a nurturing home for anyone who loves theatre- actors, designers, directors, and technicians.
"We love the work," Hayes said. "It's so gratifying to know we're providing work for actors and technicians in Montreal."
Tickets are $12 or $10 for students, seniors and QDF members; box office at 514 849-FEST (3378) or mainlinetheatre.ca. The show runs at Venue # 8, Black Theatre Workshop, 3680 Jeanne-Mance, Suite 460. For information, dates, and times, visit the Facebook page or http://www.d2productionsmtl.com.